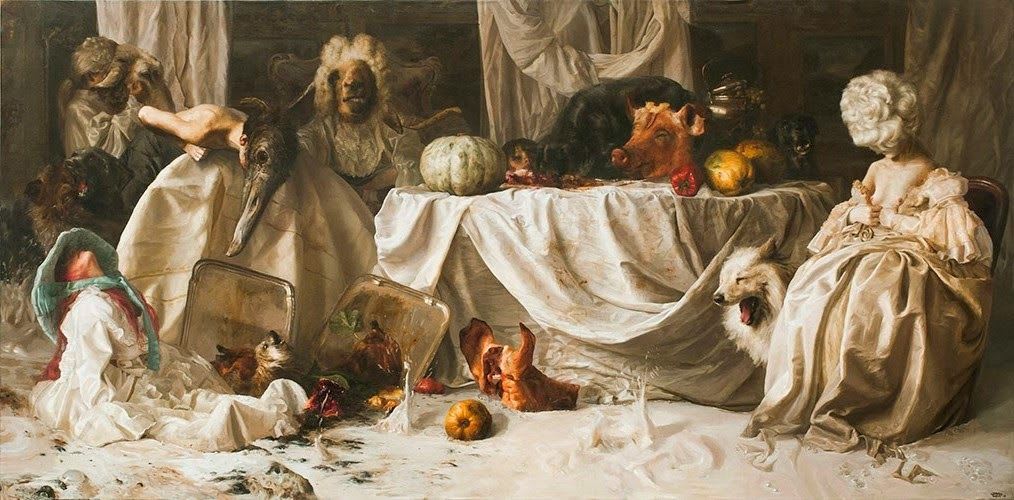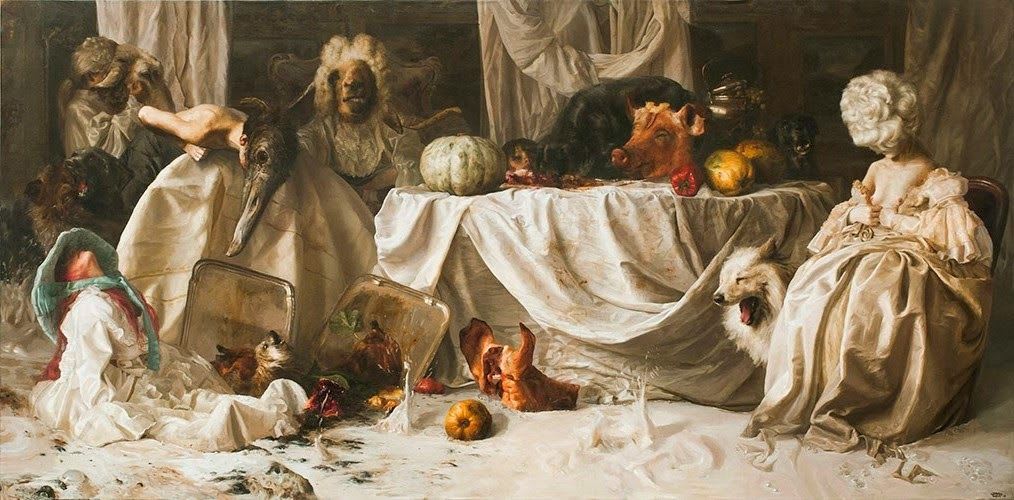 Touches of surrealism, fantasy and paranoia...
Chilean artist Guillermo Lorca creates monumental oil paintings with unique and intricate sprawling compositions that capture not only a moment in time, but an entire story.
Read full biography
Lorca's artworks infuse Baroque and Renaissance influences with touches of surrealism, fantasy, and paranoia to craft scenes depicting both a seductive luxury and a raw violence. Lorca's compositions are meticulously planned and highly theatrical in nature, often depicting innocent figures in the midst of impending doom - bloodied animal carcasses, smoke filled skies, and snarling fights.
Lorca's works aim to re-enact the phenomenon created by classic fairy tales - a narrative that transcends time and acts as a vessel for elements of the human soul to be communicated through generations of sotrytelling. He states, "I think that although painting cannot replicate that phenomenon exactly, my idea was to find something that had a bit of that spirit, and I found it in a realistic painting. It evokes and holds its own narrative and it tries to appeal to the most basic human feelings." Lorca does not work haphazardly, each painting is elaborately planned from its conception to its final form, "It is very complicated to put together many different elements that function together. That is a great challenge, it was my biggest one and that's where I entertain myself."
Born in Santiago, Chile, Lorca began his artistic training at the early age of 16 with the guidance of Sergio Montero. Soon after his first solo exhibition at Gallery Matthei in 2007 he went on to work as an assistant to the esteemed Norwegian artist Odd Nerdrum in Oslo. In the following years Lorca exhibited at both the Sala de Arte CCU, Santiago and at the Galería Hilario Galguera, Mexico, and was commissioned to create several large portraits for the Baquedano Metro Station in Santiago. In 2014, he held his fourth solo exhibition, La Vida Eterna (Eternal Life), at the Museo Nacional de Bellas Artes in Buenos Aires, where he is the youngest artist on record to exhibit individually. Lorca currently lives and works in Santiago, Chile, where he is preparing projects for around the world.