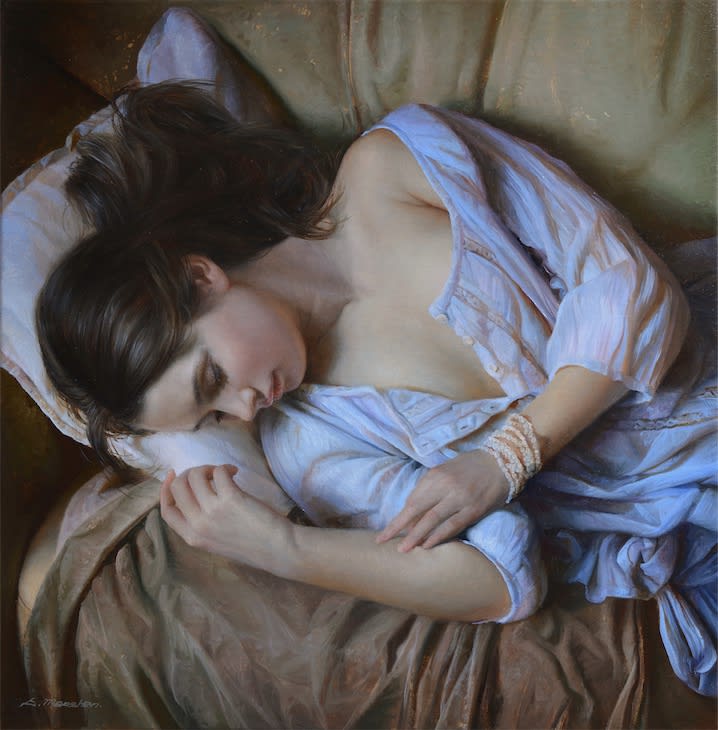 Serge Marshennikov
Hyperrealistic oil paintings with a photographic intensity...
Serge Marshennikov's hyperrealist oil paintings are utterly captivating. Languorous female figures are painted with a delicate sensitivity, they lie supine, swathed in skeins of lace. This consistency of style belies Marshennikov's scholastic understanding of Russian visual culture: his elfin models could have strayed from the pages of Turgenev or Lermontov, but remain anchored in the present by a photographic intensity.
Read full biography
Serge Marshennikov is a Russian artist born in Ufa in 1971. Marshennikov studied at one of the most prestigious art academies in the world, The Repin Academy of Fine Art in St. Petersburg, Russia. As one of the most talented graduates of the academy he conducted his postgraduate studies under the personal tutelage of the Rector of the Academy, Professor Milnikov.
Marshennikov's hyperrealist paintings of women in interior spaces are heavily influenced by the mid-twentieth century American artist Andrew Wyeth. Wyeth painted the rural farming communities of his hometowns in America with sensitivity and affection, becoming arguably the most popular artist of his time. Later he created a series of paintings of his father's nurse and caretaker, Helga, so realistically that the figures almost seemed present. It is in this way that Marshennikov portrays his sisters, depicting their skin and hair with the loving affection in which Wyeth portrayed Helga.
More recently, Marshennikov's paintings have been auctioned through Christie's and Bonham's and are part of the collection of the Museum of Modern Art in El Paso, and in The Grace Museum at Abilene, Texas. Marshennikov's work is included in a number of important private collections in Russia, England, Denmark, France and Japan.